Main Guide Bearings
Thordon hydro main guide bearings offer a long life, low- maintenance, water lubricated upgrade for traditional sealed grease, and water lubricated systems.
Avalon Bearings in partnership with Thordon Bearings Inc. offers several main guide bearing installation methods to best suit individual project needs:
Full form installation
Mechanically fastened installation
Taper key installation
Benefits include:
Oil and grease free operation
Long operational life
No catastrophic failure
Low wear in abrasive environments
Low friction
Dry startup capabilities
High resistance to shock and load variation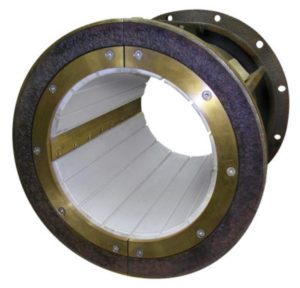 Axial and Radial Shaft Seals
Thordon SXL segmented shaft seals are designed to replace carbon graphite and phenolic seal segments in clean, or abrasive laden waters,  up to a size of 2000mm (80") in diameter.
Radial segmented shaft seals are capable of functioning up to a maximum sealed water pressure of 0.7 Mpa (100psi)
Axial segmented shaft seals are typically recommended for environments in which the pressure exceeds 0.7 Mpa (100psi)
Specific leakage amount will vary based on application conditions, however Thordon SXL seal leakage will be less than an equivalent carbon graphite seal
Seals are tough and non-brittle, reducing risk of damage during installation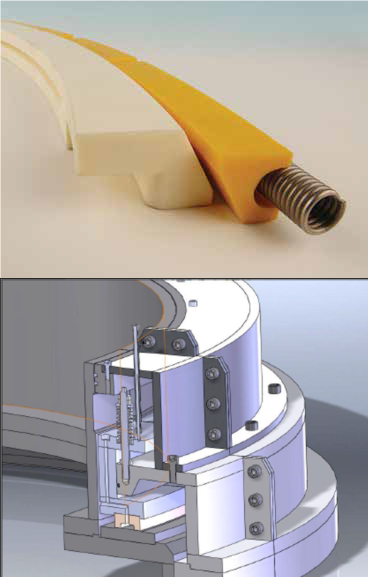 Wicket Gate and Operating Ring Bearing
Thordon wicket gate and operating ring bearings can operate wet or dry and require no oil or grease. This eliminates the cost of maintenance, and environmental damage associated with traditional lubricated bearings.
Benefits Include:
No galling from edge loading caused by minor misalignment
Can be machined on site to accommodate dimensional inconsistencies
Quick stock and custom delivery to meet rehabilitation schedules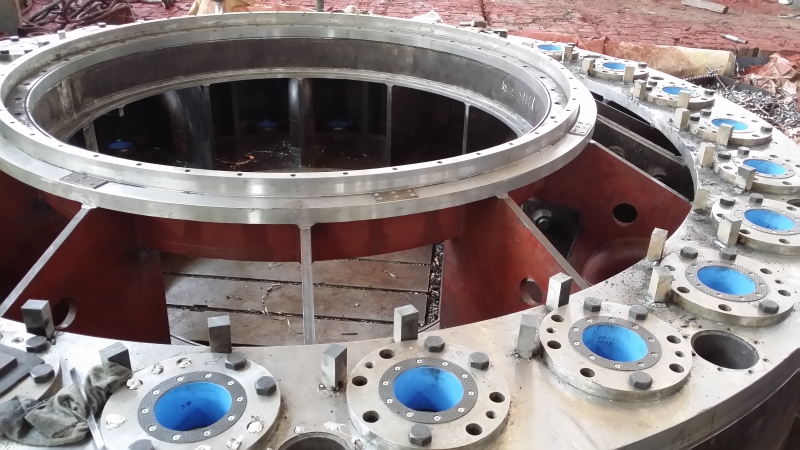 Hydro Water Quality Package
Thordon water quality packages (WQP's) are devices which function to improve the quality of the lubrication water by filtering out abrasive particles of size larger than 100 microns and with a specific gravity of 1.2 or higher. Because the operating conditions of hydro and marine applications differ, Thordon offers a Hydro WQP designed specifically for use in hydro generation.
Built in low flow alarm
Can operate as a stand alone unit or fully integrated into systems
Three different sizes to accommodate individual generator needs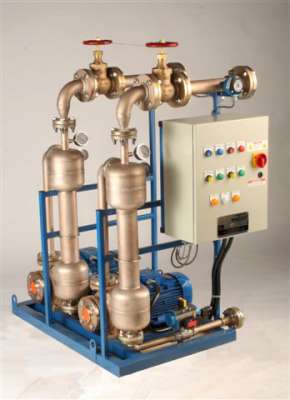 New Equipment & OEM's
Avalon Bearings in partnership with Thordon Bearings Inc. works closely with OEM's to provide them with expert bearing design and high quality products. By using bearings designed by Avalon Bearings and Thordon Bearings Inc., your company can manufacture turbines and control mechanisms that will outlast and outperform competitors, all while reducing maintenance requirements, environmental impact, and operational downtime.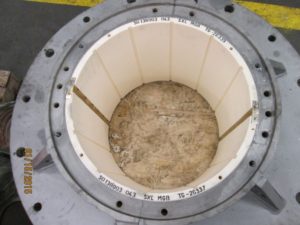 Conversions
Currently existing hydro plants can benefit from upgrading to bearings manufactured from Thordon materials. Thordon materials can function in a variety of lubrication options depending on application, they can be:
Homogeneously self lubricating (frictional properties do not change with wear)

Most recommended for low PVT conditions

Water lubricated

Most recommended for high PVT conditions

Oil lubricated
Greased
and require little to no maintenance. These bearings can be designed to replace existing traditional greased, oiled...etc. bearings. To learn about the benefits which using Thordon grade bearings can provide, please contact Avalon Bearings.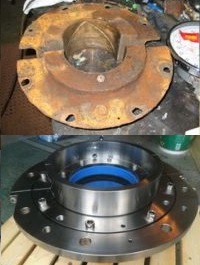 Hydro Bearing and Seal Products
ThorPlas-Blue
ThorPlas-Blue is an engineered thermoplastic, capable of dry start-up and design pressures up to 45Mpa (6,527 psi). It operates in water, up to 80°C (230°F). In dry conditions, it operates up to 100°C (230°F). In non-abrasive environments, ThorPlas-Blue has very low wear rates.
HydroPlas
Hydroplas is a self lubricated engineered thermoplastic designed for use in hydro turbine wicket gate and spillway control applications. Hydroplas can operate wet or dry at pressures up to 31MPA. Because of its homogeneous self lubricating properties, the frictional properties of Hydroplas do not change with wear, meaning predictable servo pressures for the entire lifespan of the bearing.
Thordon HPSXL TRAXL
Thordon HPSXL TRAXL is suitable for high pressure applications up to 55MPa (8,000 psi) dynamic or 70MPa (10,000 psi) static. The coefficient of friction is typically between 0.06-0.12 and is highly resistant to shock loading and vibration.
Thordon SXL
Thordon SXL is capable of working pressure up to 10MPa (1,450 psi). The coefficient of friction is typically between 0.10-0.20. SXL is capable of dry start-up and can operate in either wet or dry environments. It is highly resistant to abrasion, shock loading, and vibration.
Thordon Composite (GM2401)
Thordon Composite is made specifically for use in very abrasive water environments. Compared to rubber, Composite is stiffer, has at least twice the abrasion resistance, and has a lower coefficient of friction. Composite is easy to install, water lubricated (no grease), and reduces maintenance downtime.
Thorseal Hydraulic Seal
Thorseal hydraulic seal keeps abrasives away from the bearing surface. It is capable of working pressures from 0-100 MPa (0-15,000 psi) and is extremely tough, never cutting or tearing. It has a low coefficient of friction, is self-lubricating, and has a long wear life with reduced maintenance costs. Thorseal can be custom designed to solve difficult sealing challenges.